Vincent Lepetit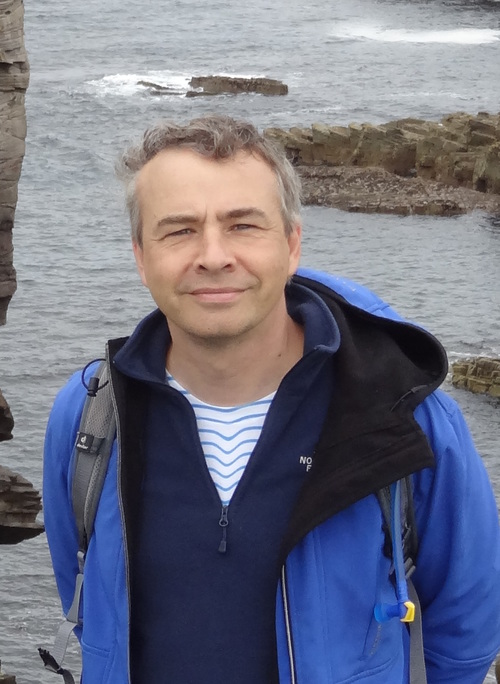 vincent.lepetit@u-bordeaux.fr
Office 203
LaBRI (Batiment A30)
351, cours de la Libération
F-33405 Talence cedex
France
IPCV: Erasmus Mundus Master programme in Computer Vision
Dr. Vincent Lepetit is a Full Professor at the LaBRI, University of Bordeaux. He also supervizes a research group in Computer Vision for Augmented Reality at the Institute for Computer Graphics and Vision, TU Graz.
He received the PhD degree in Computer Vision in 2001 from the University of Nancy, France, after working in the ISA INRIA team. He then joined EPFL where he became a founding member of the Computer Vision Laboratory. He became a Professor at TU Graz in February 2014, and at University of Bordeaux in January 2017.
His research is at the interface between Machine Learning and 3D Computer Vision, with application to 3D hand pose estimation, feature point detection and description, and 3D object or camera registration from images. In particular, he introduced with his colleagues methods such as Ferns, BRIEF, LINE-MOD, and DeepPrior for feature point matching and 3D object recognition.
He often serves as area chair and program committee member of major vision conferences (CVPR, ICCV, ECCV, ACCV, BMVC). He is an editor for the International Journal of Computer Vision (IJCV), the IEEE Transactions on Pttern Analysis and Machine Intelligence, and the Computer Vision and Image Understanding (CVIU) journal. He is a senior member of the Institut Universitaire de France.
News
1 paper accepted at CVPR'19 on SILC: corner point detection for Event-Based Cameras (based on .. Randomized Forests!).
1 paper accepted at ACCV'18 for oral presentation on 3D object detection and pose estimation in color images without using manual annotations.
1 paper accepted at ECCV'18 on handling occlusions for 3D object detection and pose estimation in color images.
4 papers accepted at CVPR'2018!
* Feature Mapping for Learning Fast and Accurate 3D Pose Inference from Synthetic Images. Mahdi Rad, Markus Oberweger, Vincent Lepetit
* 3D Pose Estimation and 3D Model Retrieval for Objects in the Wild. Alexander Grabner, Peter M. Roth, and Vincent Lepetit.
* Learning to Find Good Correspondences. Kwang Moo Yi, Eduard Trulls, Yuki Ono, Vincent Lepetit, Mathieu Salzmann, Pascal Fua. (Oral)
* Geometry-Aware Network for Non-Rigid Shape Prediction from a Single View. Albert Pumarola, Antonio Agudo, Lorenzo Porzi, Alberto Sanfeliu, Vincent Lepetit, and Francesc Moreno-Noguer.
Congrats to all.
Feb 8, 2018: I gave a talk at RVSS'18. It was an amazing summer school!
October 29, 2017. We co-organized the 3rd International Workshop on Recovering 6D Object Pose at ICCV'17.
October 23, 2017. We co-organized the 3rd International Workshop on Observing and Understanding Hands in Action at ICCV'17.
Sep 4, 2017. Talk at BMVC'17 on Deep Learning for 3D localization.
Aug 15, 2017. DeepPrior++, beating the state-of-the-art with an old method.
July, 2017. 3 papers accepted at BMVC'17. One on Deep Learning for illumination normalization, two on semantic segmentation and localization (1, 2).
July, 2017. Our BB8 paper on 3D pose estimation has been accepted at ICCV'17.
July, 2017. 1 paper accepted at ISMAR'17, on Deep Learning for Lightprobes.
May 1st, 2017. 1 paper accepted at PAMI, on Robust 3D Object Tracking from Monocular Images using Stable Parts.
March 31st, 2017. 1 paper uploaded on arXiv: BB8: A Scalable, Accurate, Robust to Partial Occlusion Method for Predicting the 3D Poses of Challenging Objects without Using Depth.
March 18th, 2017. 1 paper accepted at CVPR'17, on Learning to Align Semantic Segmentation and 2.5D Maps for Geolocalization.
March 8th, 2017. We received the Best Paper Award for Semantic Segmentation for 3D Localization in Urban Environments at JURSE 2017.