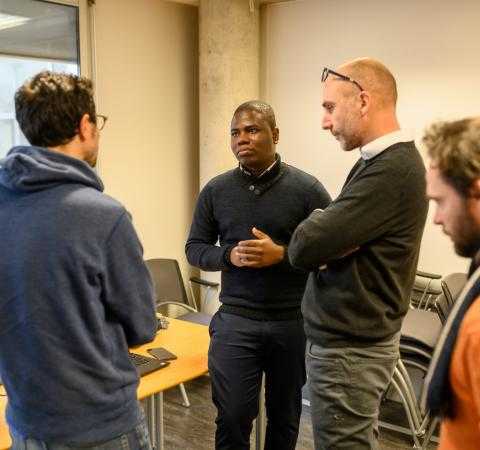 Systems and Data Department
Department leader : Jean-Rémy FALLERI
Co-leader : Raluca URICARU
Digital methods and tools are becoming increasingly important in modern society, with a great number of related topics such as data analysis for personalized medicine, automated decision-making in car driving and even the guidance of high school students for the orientation in higher education.
Two fundamental aspects are at the core of the development of these methods and tools: the systems that govern their behaviour and the data they manipulate and produce.
The research department Systems and Data (SeD) is structured around these two dimensions, with common objectives: simplify their development, improve their performances, reach a high degree of confidence in their proper functioning, and provide a smooth interaction with their end-users.

Our department is composed of two research teams:
Progress, which aims to simplify the implementation of IT systems, from source code to deployment, including the network communications aspect
BKB, which aims to improve the way in which the data that governs the operation of systems is retrieved, processed, modeled, analyzed and visualized.
To carry out its research, the SeD department relies on interdisciplinary partnerships in the academic and industrial areas where the challenges are numerous, such as fleets of drones and autonomous vehicles, bioinformatics for biology and health, the Internet of Things, Human and Social Sciences, the interpretation of the functioning of AI, as well as open-source software ecosystems.
The department conducts end-to-end research activity which, in addition to scientific publication, has spin-offs in technology transfer via industrial partnerships, as well as the production of high-impact open-source software.
The knowledge produced by the members of our department is reflected in the academic curriculums at undergraduate and graduate levels of our institutions.
For more information on our research activities, please visit the pages of our two teams.